This article explains what projects are in Tribby3d and how to create them.
General
As Tribby3d is a cloud based software, it does not operate on files that need to be saved locally on your hard drive. Instead, Tribby3d stores your models safely in a database, which allows you to access them at any time. The equivalent of a file in Tribby3d is called a project, which groups elements and other user data into a unit that can be accessed in the projects page.
Creating a new project
To create a new project, go to the Projects page and press the "+ Create new project" button to the left.

This will take you to the new page where you will be asked to provide information about the project to be created. See below: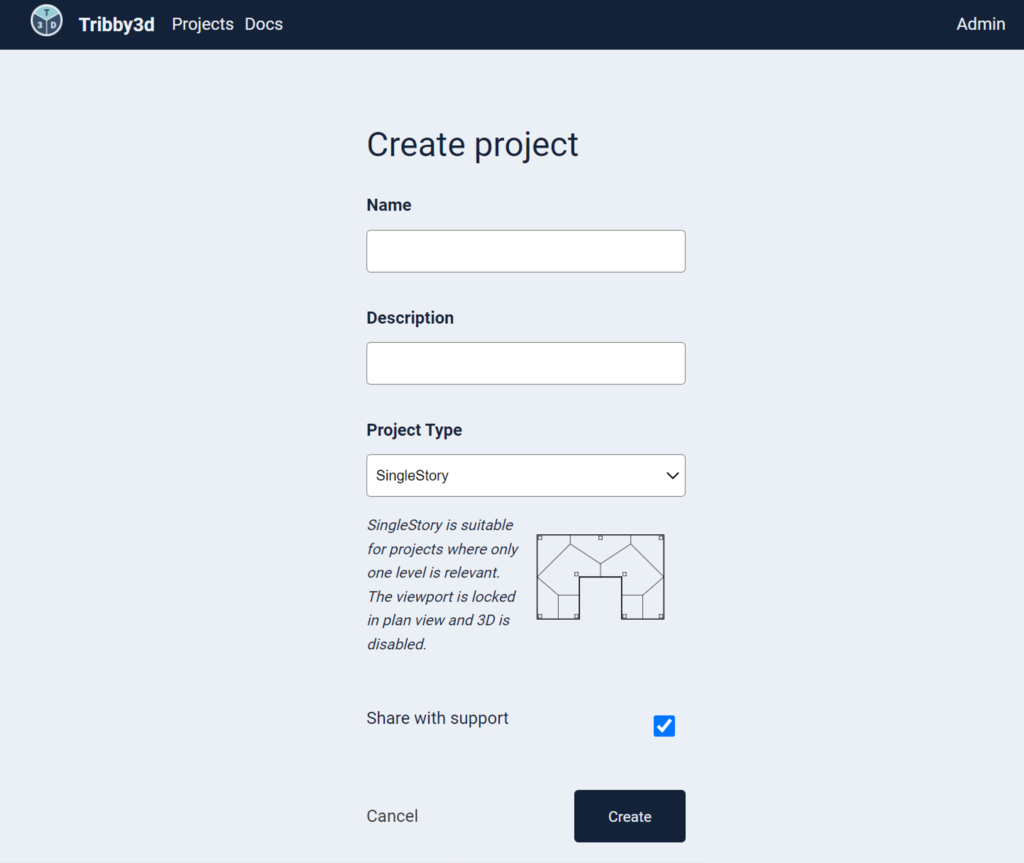 Name: The name of the project to be created. It should be short and concise.
Description: An optional description of the project. This can provide more details about the project to be created.
Project type: The project type selected will affect the behavior of the editor and the featues available. In the current version of Tribby3d, there are two project types available. See descriptions below:
SingleStory
SingleStory is suitable for projects where only one level is relevant. The viewport is locked in plan view and 3D is disabled.
See the video at the bottom of this blog post for a demo of how the single-story project type can look like.
MultStory
MultiStory is suitable for load takedown projects where more than one level must be modeled. Both 3D view and individual 2D plan views are enabled.
See this blog post and included video to see what the multi-story project type can look like.
Share with support: By checking the "Share with support", you will consent that Tribby3d technical staff will have access to your project in case you need assistance. Note that technical staff will not access your project without your permission in addition to the "Share with support" option checked.
Remarks
In the current version of Tribby3d, the project type cannot be changed after the project has been created.