Structural engineering books are the fundamental basis for deepening knowledge. When studying and practicing civil engineering, it is essential to have the most specialized material with the most relevant information about the different fields of application at hand.
Join us as we dive into the top 13 best structural engineering books available in the world.
Background
Knowledge is power, so having the best 13 books on structural engineering gives you the tools to acquire solid foundations and you can perform as an excellent professional without any complexity.
For every professional, it is of the utmost importance to make correct use of tools, techniques, procedures, and materials, to apply them in the design, and construction of safe buildings and structures, to contribute to the development of society.
If you want to learn more or are a fan of reading, then here are the top 13 structural engineering books.
Top 13 Structural Engineering Books
Below we present a curated list of the top 13 literature pieces ever published on the topic of structural engineering. The books have been selected based on quality of content and relevance for the profession. Please note that this post is independent and thus none of the listed items have sponsored this article.
1. Structural Members and Frames
Author: Theodore V. Galambos
This book is intended for graduate students and engineering professionals. It focuses on the detailed study of: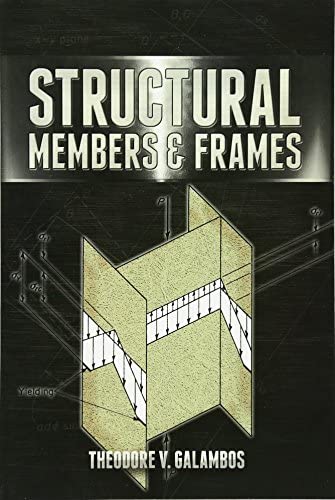 Elastic and inelastic behavior of metal beams, pillars, beams-columns, rigid porticos
Background of their general behavior in terms of specific tests.
Theoretical elastic behavior and termination of utility by elastic buckling
The behavior of the inelastic region
Use of various conceptual models in the prediction of inelastic instability
Differential equations governing elastic deformations of prismatic thin-walled open limbs
In each of these topics, numerous examples are shown that illustrate the theory and applications giving a broad vision to the reader of how he can approach the study and design of their structures.
Price: $29.95 USD on Amazon.com
2. Structural Concrete: Theory and Design
Author: M. Nadim Hassoun, Akthem Al-Manaseer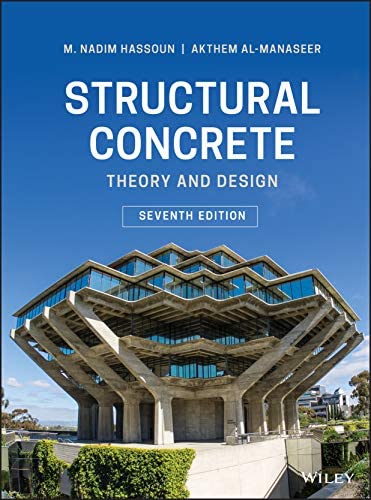 This book has been a reference for students and professionals of structural engineering for more than two decades, it has been updated on the design and structural analysis of concrete according to the most recent ACI code 318-19.
It focuses on the study of
Theory and design for transverse reinforcement and shear in wide beams
Reinforcement of pendants and the bidirectional interaction of the unidirectional shear
Bidirectional shear resistance
Ordinary walls
Seismic loads
Detailed analysis of reinforcement and material requirements
Historical background of structural concrete with its advantages and disadvantages
Dozens of examples are included that will be very useful for students to improve their design ability with the explanation of the requirements and restrictions of the code, it is considered an excellent text for both students and professionals of civil and structural engineering.
Price: $182.95 USD on Amazon.com.
3. Structural Steel Design
Author: Abi O. Aghayere, Jason Vigil
It is a simple, practical, and concise guide to structural steel design.
Load and Resistance Factor Design Methods (LRFD)
Permissible Resistance Design (ASD)
It follows a holistic approach to steel structure design that considers the design of individual steel structural elements in the context of a complete structure.
This book gives the reader the skills to design structures in the real world. Thanks to its focus on the design of each building component, the reader can see how each element fits into the big picture of an entire building design and construction process. Structural details and practical examples of problems are presented that reflect what is obtained in the practice of professional design.
Price: $99.95 USD on Amazon.com
Did you like this post? Sign up and we'll send you more awesome posts like this every month.
4. Steel Design
Author: William Segui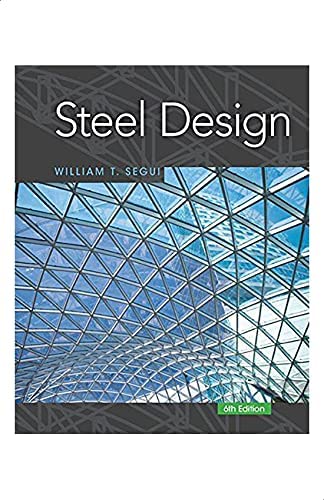 STEEL DESIGN covers the fundamentals of structural steel design with an emphasis on:
Concepts in structural steel design, load factors, strength factors, and combinations for LRFD and ASD
Tension bars: Tensile strength effective area and design of traction elements
Compression members: Pillar theory, local stability, torsion buckling, and bending-torsion
Beams: Bending forces, bending resistance.
Design of floor and ceiling lattices
Beam-columns: Analysis methods for the required resistance, moment amplification method
Easy connections
Eccentric connections
Composite construction
This text aims to instruct and encourage the application of the fundamental principles for design procedures, covering the fundamentals of steel structural design with a detailed study of the design of the members and their connections. Thanks to this, it has become a referential tool for students at the junior and senior levels to review current practices.
Price: $46.99 USD on Amazon.com
5. Building Construction Illustrated
Author: Francis D. K. Ching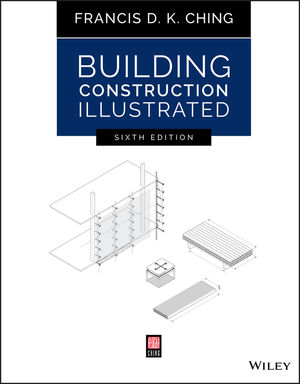 Building Construction Illustrated is the No. 1 guide to building construction principles, with the most up-to-date methods, systems, and materials.
In this guide, the following topics are studied
Modular foundation systems
Types and systems of intelligent facades
Up-to-date information on sustainability and green building
Use of insulation materials and fire-resistant wall and floor assemblies
Latest code and standard requirements, including IBC, LEED, and CSI MasterFormat
This book has been the main guide to building construction for over four decades. It is excellent for students of civil and structural engineering, construction management, and interior design programs, providing students and professionals with the information necessary to understand the concepts of residential and commercial construction, architecture, and structural engineering.
Price: $44 USD on Wiley.com
6. Design of Reinforced Concrete Buildings for Seismic Performance: Practical Deterministic and Probabilistic Approaches
Author: Mark Aschheim, Enrique Hernández-Montes, Dimitrios Vamvatsikos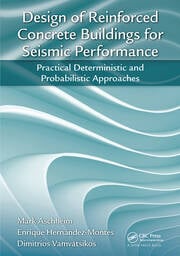 This book presents the principles of structural engineering, including the latest tools and techniques to provide a practical design guide in which various levels of seismic behavior can be addressed.
Its approach is based on the study of
The resistance required from an estimated derivative creep displacement
Analysis method to design the seismic resistant system based on the results of the elastic analysis
Detailed requirements of ICA 318 and Eurocode 8
It provides students with detailed information about seismological coverage, and structural dynamics, being a basic tool of seismic engineering.
Price: $300 USD on Amazon.com
Tip: Check out our blog post about loads on structures:
7. Seismic Design of Foundations: Concepts and applications
Author: Subhamoy Bhattacharya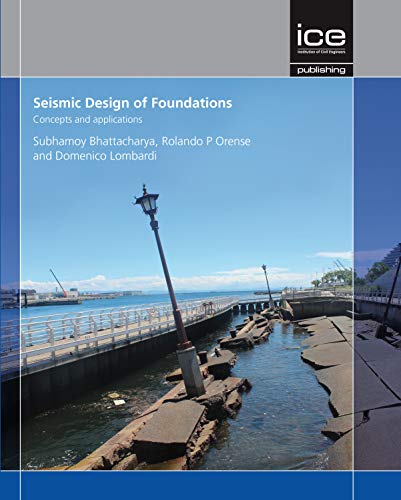 With the use of basic and simple-to-understand concepts in this book they examine
Results of recent and global research with post-earthquake cases
Practical methods to be applied in the real world
Examples of new and innovative discovery work with code of practice information in various parts of the world
Lessons learned from recent major earthquakes
The objective of this book is to show practical examples at the end of each chapter that highlight the knowledge treated, with cutting-edge information, covering cases from around the world such as Japan, New Zealand, India, and Taiwan, among others, ideal for postgraduate students of civil engineering or structural engineering.
Price: $112.50 USD on Amazon.com
8. Principles of Structural Design: Wood, Steel, and Concrete
Author: Ram S. Gupta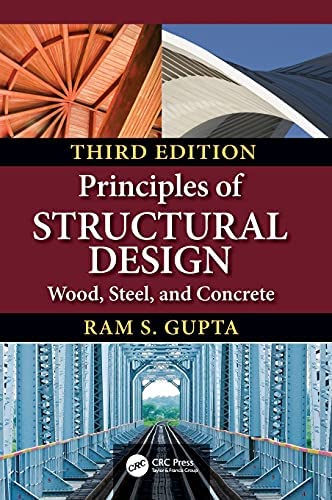 In this book, a study is made of the usual materials in structural design.
Its approach is based on:
Choice of materials according to the type of structure, availability, and preferences of the designer
Individual designs of each material, along with the theory of structures essential for the design
Numerous examples of complete structural designs are included, with a database with the properties of the materials, and specific properties of the sections, which serve as a guide for the design of the structure.
Price: $150 USD on Amazon.com
9. Structural Fire Engineering: Instrumentation and Measurements (ASCE Manual and Reports on Engineering Practice Book 138) (ASCE Manuals and Reports on Engineering Practice)
Author: Fire Protection Committee (Author), Kevin J. LaMalva (Editor)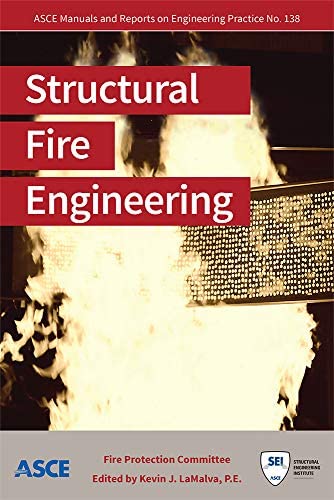 This book, prepared by the Fire Protection Committee of ASCE's Structural Engineering Institute, provides best practices for the field of performance-based structural fire engineering design
In this manual, MOP 138 is addressed
Methods of thermal and structural fire analysis
Information on the protection of structures against fire
Effects of fire on different types of construction
Differences between standard fire resistance design and structural engineering design with fire
Analysis techniques that can be used to quantify the structural response to the effects of fire
This book is a valuable resource for students and structural engineers interested in performance-based design for structural fire safety.
Price: $140 USD on Amazon.com
10. Structural Stability Theory and Practice: Buckling of Columns, Beams, Plates, and Shells
Author: Sukhvarsh Jerath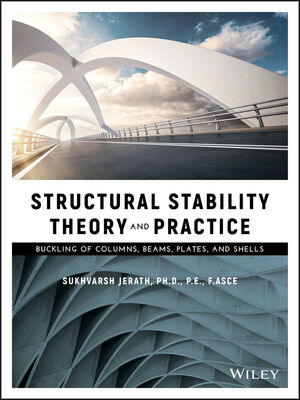 The theory of structural stability and its applications in crucial areas of engineering, is a valuable guide, perfect for study inside and outside the United States, written in U.S. and SI units, offers
Detailed and patiently developed mathematical derivations and comprehensive explanations
Energy methods that are incorporated throughout the chapters
Connections between theory, design specifications, and solutions
The latest codes and standards from the American Institute of Steel Construction (AISC), Canadian Standards Association (CSA), Australian Standards (SAA), Structural Stability Research Council (SSRC), and Eurocode 3
Practice-oriented, solved and unresolved problems in each chapter, with a solution manual for unsolved problems included for instructors
Structural stability theory and practice is a book that combines the necessary information on structural stability into a single, comprehensive resource ideal for students as practicing engineers, providing its readers with comprehensive explanations of mathematical derivations with practical examples.
Price: $135.95 USD on Wiley.com
Tip: Check out our blog post about column buckling:
11. Mechanics of Civil Engineering Structures (Woodhead Publishing Series in Civil and Structural Engineering)
Author: Laszlo P. Kollar, Gabriella Tarjan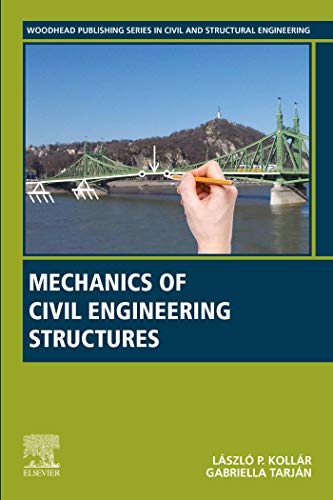 This book presents the foundational material and the advanced theory and method that civil engineers need, with basic knowledge and advanced analytical and empirical tools for structural design, focused on:
Methodological and analytical tools necessary for the design of civil engineering structures
Mechanics of the most outstanding structural elements, including pillars, beams, porticoes, plates, and hulls
Details mechanical models to assess the applicability of design codes
Structural engineering students and practicing professionals need advanced analytical and empirical knowledge and tools, and this book covers the fundamental principles of mechanics necessary to understand the responses of structures to different types of loads and provides analytical and empirical tools for design. Also, it includes fully elaborated examples of important problems, as well as practical problems with a manual of solutions.
Price: $201.40 USD on Amazon.com
12. Structural Analysis with the Finite Element Method. Linear Statics: Volume 1: Bases and solids
Author: Eugenio Oñate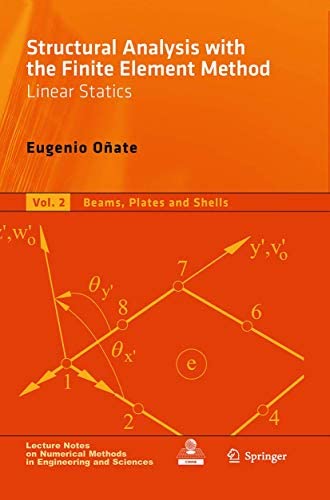 Volume 1 The Bases and Solids, presents the bases of the MEF Finite Element Method for structural analysis and a detailed description of the finite element formulation
The basic theory for each structural model considered
Guidelines for application to structural engineering problems
Treatment of inclined supports, elastic foundations, stress smoothing, error estimation, and adaptive mesh refinement techniques, among others
Generation of meshes and visualization of the results of the MEF.
Essential tool for students approaching finite element structural analysis for the first time, as well as for practicing engineers interested in practical structural analysis.
Price: $120 USD on Amazon.com
13. Structural Analysis
Author: Russell Hibbeler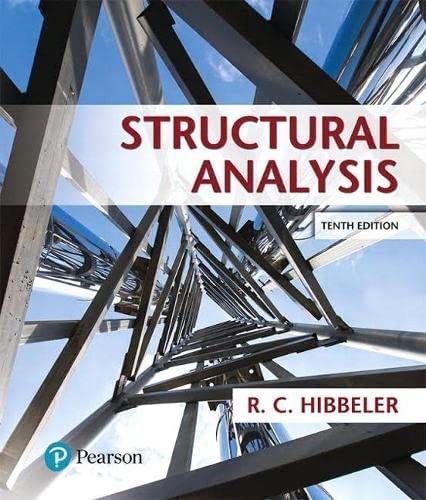 This book is well-organized and easy to read, emphasizing
Applications of structural analysis in trusses, beams, and gantries
Analysis and model of a structure in preparation for professional practice
How to draw moment and deflection diagrams for beams and porticos
Updated ASCE/SEI 2106 Specifications
This text is designed so that students taking their first course understand the most important classical methods of structural analysis, how loads are transmitted through a structure, and how the structure will deform under this load.
Price: $253 USD on Amazon.com
Final Words on Structural Engineering Books
Through reading we acquire a lot of knowledge, thus improving our skills, having the best structural engineering books will allow us to understand that wonderful and complex world, making a difference in the way we give solutions to problems, feeding inspiration, and generating ideas.
Reading will open the doors of knowledge and give wings to inspiration and imagination.
Related Articles